Green Lake Crew first went on the water seventy-one years ago, in the spring of 1948. GLC's 'origin story'—and how it has flourished for seven decades—is a uniquely Seattle tale. It is a story of breaking barriers, of a community dedicated to getting kids on the water, of a special relationship with Seattle Parks and of the incredible dedication of a long list of passionate rowers, coaches and volunteers. It is also a story with an exciting new chapter, one being written and hopefully completed in the next year or two.
That tale has touched nearly everyone who has picked up an oar in Seattle. Former UW rowers had attempted to start a junior rowing program on Green Lake even before World War II. (If you've read The Boys in the Boat, you'll recognize the source of the enthusiasm for such a notion.) WWII would obviously put any such ideas 'onto the beach' for the interim, but the idea was refloated soon after that conflict ended. By 1947 the idea gained momentum under the leadership of a Seattle Times reporter, Alex Shultz. He recruited several North End community leaders, most notably Clarence Massart, president of the Wallingford Boys Club (and later City Council president), and Joel Woelfert, a sheriff's deputy and director at the Greenwood Boys Club.
In need of boats and coaches, they turned to legendary UW coach Al Ubrickson. Ulbrickson responded to the call with several loaned shells and recommended as coach UW oarsman (and future UW lightweight coach) Chuck Moriarty. Moriarty immediately reconnected with Frank Cunningham, who had settled in Seattle after graduating from Harvard. In 1947, Cunningham had stroked the Crimson varsity to a record-setting victory in a 12-boat national regatta on Lake Washington, where the two had met. Chuck and Frank agreed to share responsibilities as program coaches, and Green Lake's first junior crew launched in spring 1948. Using a borrowed, donated launch and the old Conroy Boathouse at the north end of the lake, GLC was now a reality.
Moriarty (d. 1999) would go on to the state legislature in Olympia, where he served as minority floor leader before returning to private practice in Seattle. Cunningham (d. 2013) would continue to coach the junior crew program at Green Lake until 1968. He was critical to the program's survival and growth in those years, as he actually bought GLC's first 4+ (along with a wherry and a single) with his own funds. Along the way, of course, Frank became a 'founding father' of LWRC and a Northwest rowing icon.
GLC has innovated and led throughout these seven decades. Junior women's rowing joined the boys in 1963, nearly a decade before the passage of Title IX. Green Lake Adult Crew was founded in 1987, and Green Lake and Mt. Baker have co-hosted both USRowing's national convention and the Masters National Championship Regatta. GLC even survived nearly total boathouse destruction in the Nisqually Earthquake in 2001!
And now? As it moves into its 'second seventy,' the energy at GLC has never been higher. Continuing the effort to break down barriers and get more kids (and adults) on the water, we are constructing a new boathouse that is due to open near the end of 2023/early 2024. Please stay in touch for news of our grand opening.
Interested in learning more? For more on the history of our program and its impact, we invite you to watch 70 Years of Pulling Together below, and read the highlights in our timeline, a constant work in progress. If you have corrections, photos, or stories to add, please see the contact form at the bottom of this page.
~Tim Amen, GLC Historian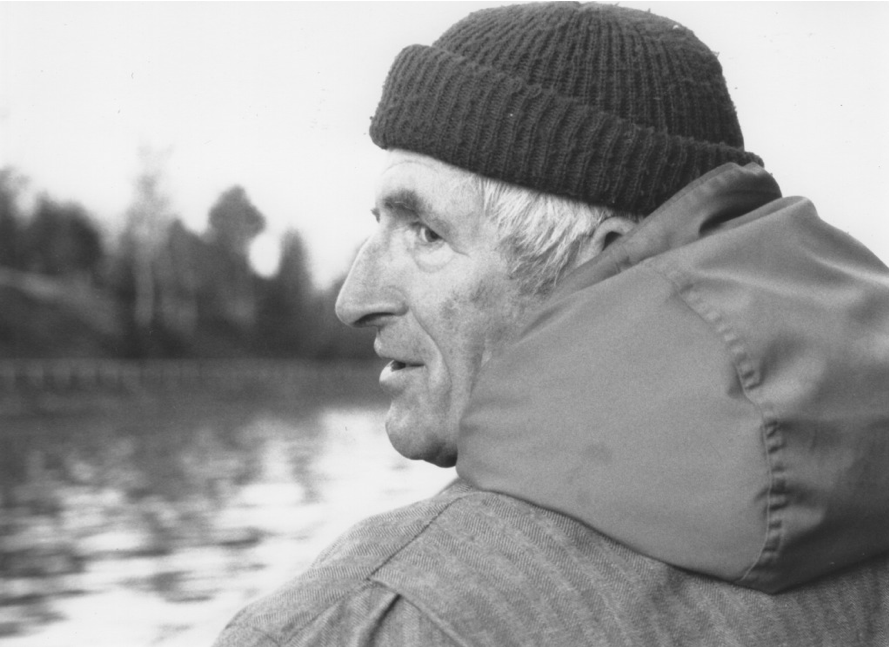 1947: Community leaders from Boys' Club of Seattle (now the Wallingford Boys and Girls Club), Seattle Times, and University of Washington, working with Seattle Parks Department, agree to place equipment donated by the UW for Green Lake Crew in a portion of the Parks Department Conroy Boathouse (near present-day Green Lake Community Center on the northeast corner of lake).
1948: GLC begins on-water operations with Charles Moriarty (UW '47) and Frank Cunningham (Harvard '47, at left) as co-coaches.
1951: City authorizes construction of new shell house and launch house on southwest corner of the lake, in conjunction with construction of Aqua Theater.
1952: Contractor for Aqua Theater constructs shell house at southwest corner of the lake. Labor and materials donated to the City and valued at $50,000. GLC uses Aquatheater showers and locker facilities.
Young Men's Business Club of Seattle provides financial support for program.
Seattle Junior Rowing Commission, a non-profit corporation, formed to provide program leadership and fundraising.
Big Ten Bowling League funds construction of a rowing barge for use in the program. Designed by George Pocock and built by students at Edison Technical School (later made part of Seattle Colleges), it's named "Ten Pins."
1952: Carl Lovsted (GLC '48 and the first GLC captain) represents the US at the Olympics in Helsinki, winning bronze in the UW 4+.
1957: Parks Department initiates practice of paying GLC head coach.
Spring season rowing added to program.
1958: Between heats of the Seafair Gold Cup hydroplane races on Lake Washington, GLC rows in an exhibition race vs. Iolani High School, a private school in Honolulu. The UW loans two shells for the race, the John Bracken (GLC) and the Quinault (Iolani). GLC, coached by former UW oarsmen Don Voris and John Halberg, wins by a half length. The boys in the boat: Tom Alberg (stroke), Jim Reese, Frank Coyle, Don Parmenter, John Holmstrom, Doug Jackson, Lynn Caldwell, Tim Williams, Paul Jackson (cox).
1959: Parks Department purchases first rowing shell for program from George Pocock, a four with coxswain.
GLC travels to Hawaii to race against multiple Hawaiian high school crews, sweeping all five of their four-with-coxswain races.
A Green Lake 4+ composed of Roy Rubin, Mike Yonker, Chuck Holtz, Leroy Jones and Ray Walker (cox), beat out one of Lake Washington's boats to earn the right to go to US Nationals, where they win. The teens are the darlings of the Pan Am Games in Chicago, where they cap their cinderella story with a gold medal.
1960: Green Lake travels to Hawaii for a rematch with Iolani, this continues for two more years.
Roy Rubin (GLC '60) represents the US National team at the 1960 Olympics in Rome.
1961: Green Lake competes at the National Schoolboy Championships in the Washington, DC (finishing 8th in the nation).
First Summer Regatta held at Green Lake (now known as the Summer Extravaganza). It is the oldest continually-running youth regatta in the Western US (adding adults in the 1980s). As of 2021 it had been held annually 58 times.
1962: First Spring Regatta held at Green Lake. As of 2021 it had been held annually 57 times. It is the second-oldest continually running youth regatta in the Western US.
1963: Girls' rowing program initiated as part of Green Lake Crew with C. Kent Carlson as the first coach.  The original plan to be a recreational program fades as the girls become very competitive.
1964: First Frostbite Regatta held at Green Lake. As of 2021 it had been held annually 56 times. It is the third oldest continually running youth regatta in the Western US!
Juniors paint the "G" on the apron outside the shell house for the first time.  Parks Department is not pleased!
GLC alum Ted Mittet wins a bronze medal at the Tokyo Olympics, in bow seat of a Lake Washington Rowing Club coxless four with Ted Nash (S), Geoff Pickard (3), and Dick Lyon (2). 
1965: Frank Coyle assume the role of head girls coach and girls win the inaugural West Coast High School Championship 4+ at Green Lake.
Earthquake extensively damages shell house.  As part of the repair, shell house capacity expanded and paved "apron" to the north of the building is constructed.
Boys 4+ with Dee Walker (B) Greg Miller (2), Gerry Tsutakawa (3), Dan Roulst (S) and Doug Carmichael (C) narrowly miss winning the Canadian Henley.
1966: GLC and Lake Washington Rowing Club host first annual National Women's Rowing Association Regatta at Green Lake providing a major boost to women's rowing in the Northwest. This was the first fully-sanctioned women's championship rowing regatta in the United States, and featured seven crews, including girls and women from Pennsylvania, Oregon, and California.
Girls Lightweight 4+ and Lightweight 8+ win National Championships.
Budget for the entire program is $2,700
1967: Girls Lightweight 4+, Lightweight 8+, Novice 1x win the NWRA National Championships at Lake Merritt in California.
1967: Boathouse named in honor of Seattle City Council President Clarence Massart on his retirement.
1968: Forward Thrust bond issue approved by King County voters includes funding to remodel the shell house at Green Lake to provide continuing "boating opportunities for youth."
Girls team travels three days by train to compete in NWRA National Championships held in Philadelphia, PA
1969: Green Lake was once again the site for the United States Women's National Rowing Association's national championships with 13 clubs competing.
1969: Ellen Ortblad becomes head girls' coach, the first woman to coach at GLC and a four-year alum of the program; Carol Hiltner, a two-year veteran, is the sculling coach.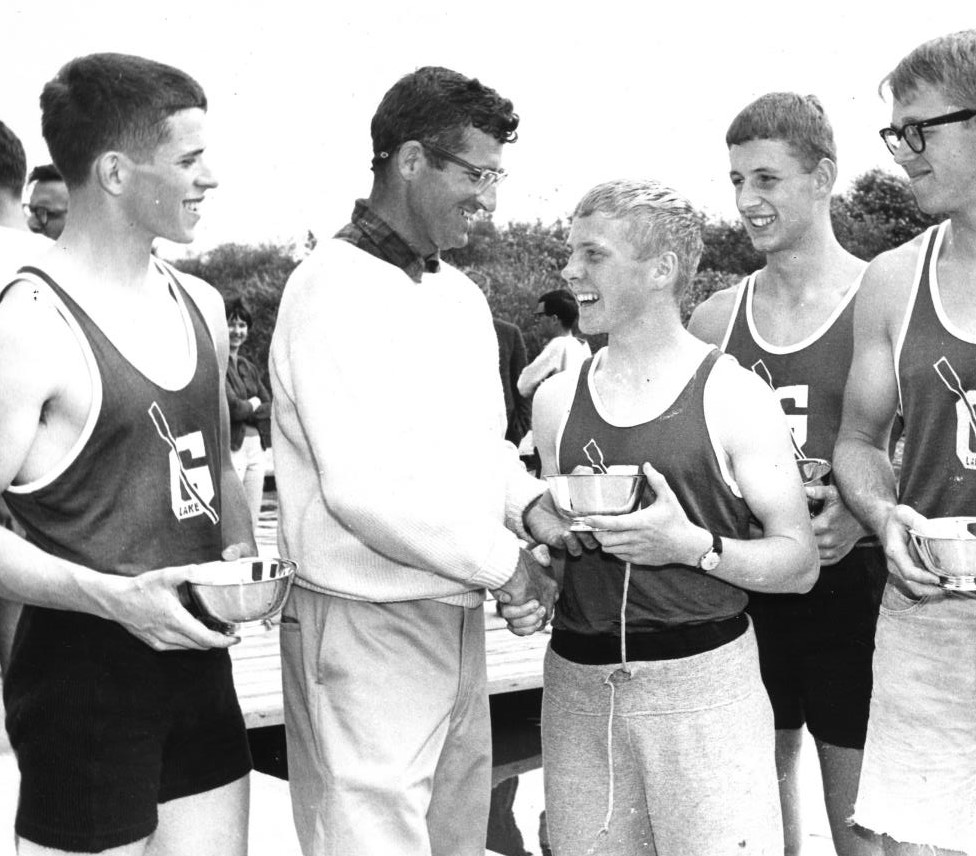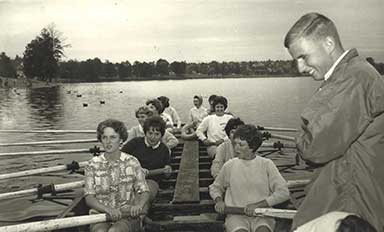 1970: Kathy Lazara begins coaching as the assistant girl's coach.
1972: Green Lake again hosts the United States National Women's Rowing Association national championships.
1975: Boys head coach Greg Miller (UW '70) takes the team to Corvallis (via yellow school bus) where the  boys sleep on the floor of the Corvallis Girl's and Boy's Club and race against colleges on the Willamette River.
1976: Fall rowing offered (Greg Miller and Kathy Whitman coaches) 3 days/week from September through November.  Cost: $5.00 per student.
1976: Pacific Northwest Regional Championships held at Green Lake
1977: Gil Gamble (UW '75) becomes Boy's head coach.
1978: Green Lake hosts the United States Women's National Rowing Association's national championships. 
Green Lake Crew athletes Patty Bulger, Tori Laughlin, Marcy Pravitz, Shyril O'Steen, and Molly McDonald are selected for the first U.S. Junior National Girls rowing team to represent at the Junior World Championship in Belgrade, Yugoslavia. Kathy Lazara Whitman is the coach of the eight and pair. DeWitt Whitman is the boatman for the team.
Boys travel to Klamath Falls, OR for West Coast Championships; Lightweight 8+ west coast champions for 4th year in a row.
Launch house for second launch located near Evans Pool was removed.  Second launch then stored indoors at GLSCC.
1979: Green Lake hosts the first Ted Houk paddling regatta (as of 2018, this was the 39th annual event).
1979: Rowing Advisory Council (RAC) formed to handle the daily finances and team projects of the program; Seattle Junior Rowing Commission continues to work behind the scenes with major funding efforts.
1980: GLSCC takes on present physical configuration.
Forward Thrust remodel of the Green Lake Small Craft Center includes the removal of a large portion of the Aquatheater; the portion that remained was a "modern ruin," along the theme of the Colosseum in Rome.
Rowing program relocated to Magnuson Park for the year of construction. A warehouse on the east shore was used for storage adding a lengthy trek as boats were carried to the public boat launch where a float was attached to the north pier to allow for shell access.
A new building to house sailing and canoe/kayak programs is constructed. This structure today also houses the GLSCC office, and locker space for coaches.
The shellhouse floor "footprint" remains unchanged, but a double launch house is added and the ceiling height is increased. A new dock (#2) is added. The shellhouse remodel intended to utilize the walls and floor of the original building, however, when the old roof was removed, the primary west wall fell down and had to be replaced; only the original floor remains from the 1951 building.
1984: Shyril O'Steen, GLC '77, wins gold at the 1984 Olympics in Los Angeles in the women's 8+
Rowing Advisory Council (RAC) established as 'legal successor' to Seattle Junior Rowing Commission.  
The Collegiate Women's National Championships were held on Green Lake.
Masters (i.e., adult) rowing program initiated.
1985: Green Lake was the site for the United States National Women's Rowing Association's national championships.
Ed Maxwell begins coaching at Green Lake
1986: Green Lake last hosts the Masters Nationals.
In June Green Lake is closed to swimmers, and rowing is briefly suspended, after reports of alligator sightings in the lake.  On June 2, two two-and-a-half-foot long caimens were removed from the lake and given to the Zoo.  A new mascot for the Summer Regatta was found!
1987: Green Lake Adult Crew (GLAC) recognized by RAC as representative of masters rowing concerns
1988: Green Lake hosts the USRA Northwest Rowing Championships
Green Lake Boys travel to San Diego for the Crew Classic.  They return and win it in 1989, 1990 and 1991.
1988: Boys 8+ and 4+ win the 1988 National Youth Rowing Championships
1989: Chuck Desiderio begins his tenure under Dewitt Whitman as boatman at Green Lake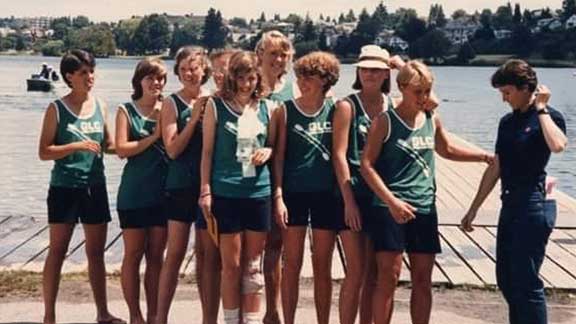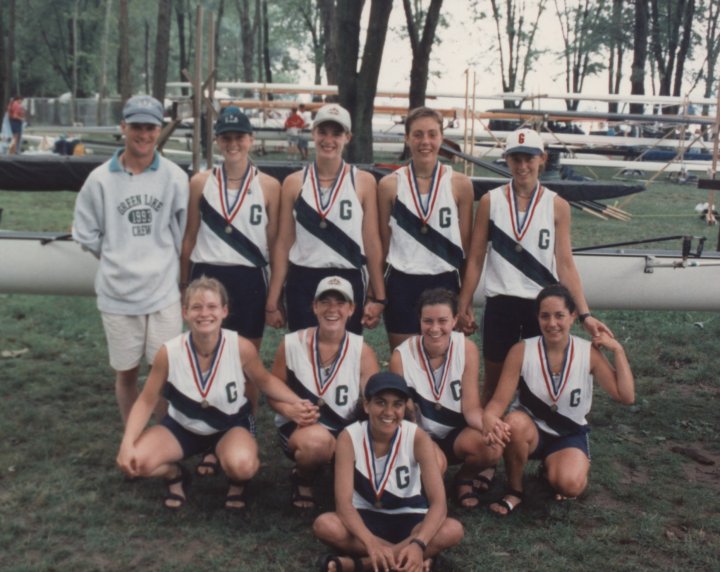 1991: Jason Frisk begins as program director at Green Lake.
Northern fixed apron area rebuilt as concrete on heavy rock base. This was an in-house construction project.
1993: Masters Women's team places first in the 8+ at the USRowing National Championships in Vancouver, WA.
1994: Green Lake's Masters Women repeat their gold medal showing in the 8+ at the National Championships in Augusta, GA.

1994: Girls 8+ win the 1994 National Youth Rowing Championships
1995: It's a three-peat! The Masters Women take the gold again in the 8+ at Nationals in St. Paul, MN.
1995: New Sailing program started with help from the sailing foundation, twelve sailboats purchased; sailing fleet has grown since to 18 boats.
1998: Coby Stites begins coaching at Green Lake as a Masters coach. 2018 marks his 20th year coaching at the Lake.
Green Lake Boys win the Lightweight 8+ at the National Youth Rowing Championships.
Green Lake Boys travel to Boston for the Head of the Charles for the first time.
2000: Green Lake hosts the USRowing Masters Nationals.
Green Lake Boys win the 2000 V8+ and V1x (Cooper Lange) National Youth Rowing Championships. 
Lianne Bennion Nelson (GLC '91) represents the US at the 2000 Olympics in Sydney, Australia.  In 2004 she wins a silver medal at the Athens Olympics.
2001: The boathouse is heavily damaged by the Nisqually Quake
2002: Green Lake Boys win the 2002 National Youth Rowing Championships
2005: Green Lake Boys go to England and compete for the first time at the Henley Royal Regatta
2006: Green Lake hosts the USRowing Masters Nationals.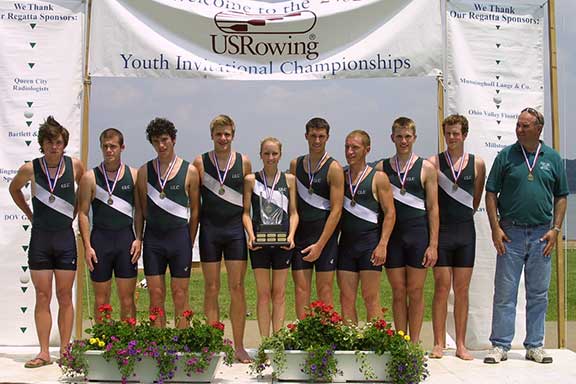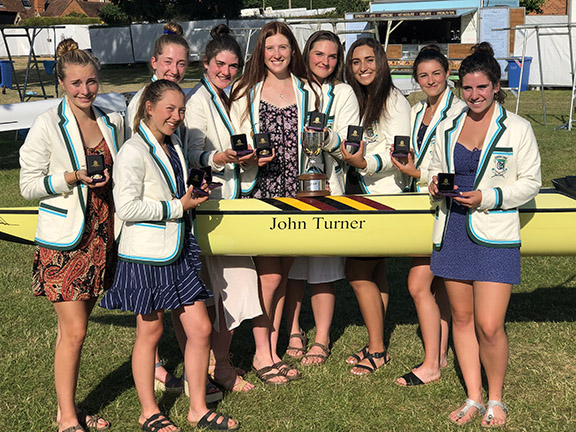 2017: Kathy Lazara Whitman retires as Director of Aquatics at the Seattle Park Department ending over 40 years of service to youth rowing.
After 32 years Ed and Karen Maxwell retire from Green Lake.
2017:  Pheobe Marks-Nicholes (GLC '14) coxes the UW Women to a win at the NCAA Championships.  The UW Women sweep the field.
Arne Landboe (GLC '14) named captain of the UW Men.
2018: Green Lake Girls go to England and win the Peabody Cup at the Women's Henley Regatta
Nearly 400 alumni, coaches, and supporters celebrate the 70th Anniversary of the program at the Museum of History and Industry.
2020: COVID shuts down all city recreation programs. GLC coaches and supporters organize a small boats program out of College Club to keep kids rowing.
2021: GLC Girls are the first American Junior women's 8+ to race at Henley Royal Regatta in the Prince Phillip Challenge Cup.
Jason Frisk, longtime coordinator of the program, retires after 30 years with Seattle Parks.
Haley Yaeger, GLC and UW alum, takes over as head coach of the boys program.
2022: Green Lake girls experienced team sweeps the USRowing NW Junior Regional Championships.
GLC alum Alina Hagstrom represents the USA in the Women's 8+ at the world championships in Czech Republic.
Ground is broken for construction on the new Green Lake Community Boathouse, a project first envisioned in 2013. The new boathouse will increase capacity, allowing more Seattleites than ever to enjoy small craft water sports on Green Lake.
Green Lake is selected as a site for the STEM to Stern program, which combines rowing and STEM education to bring underrepresented groups into the sport. The pilot session is held in partnership with the Wallingford Boys and Girls Club, bringing the program full circle to its origins.
Have a correction, milestone, or photo to add to our history? Contact us here.
History and Archives
Contact form for History and Archives inquiries